Auto Body Shop in Beaverton, MI
ABC Auto Body has been serving Beaverton and Billings, MI for the last 30 years. We're the car body shop customers turn to for comprehensive repairs, done right. Our customers sleep easy at night knowing our team has decades of experience behind them. We offer collision repair, auto glass service, frame straightening, paintless dent removal and auto painting. We work hard to fix your vehicle, to ensure it looks great drives safe and continues to get you to where you need to go. Schedule an appointment with our collision repair shop today.
Auto Body Tech Needed
Experience preferred
A Collision Repair Shop with Results Like No Other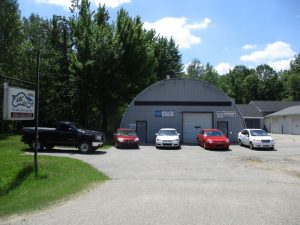 Your vehicle needs to get you to wherever you need to go. But it can't do that if it has a smashed-in bumper, dented door panel or cracked windshield—at least, not safely. ABC Auto Body knows that sometimes, accidents happen and are unavoidable, but that doesn't mean your vehicle needs to continue to suffer after a collision. We're a full-service auto body shop serving the drivers of Beaverton, MI in whatever capacity their vehicle needs to look great and drive safe once again.
We specialize in collision repair and frame straightening, and have a wide breadth of capabilities that make us the authority on all types of bodywork. For small fender-benders, we have paintless dent removal options and auto paint services. For isolated incidents, we can replace damaged auto glass and handle dents, dings and scrapes affecting your car. Anything short of a completely totaled car is in our wheelhouse—we'll get it fixed up right, regardless of make or model.
Our technicians are masters in delivering superior auto body repair shop services, and we're proud of the reputation we've earned among Beaverton, MI residents. Whether it's your daily driver or your Sunday driver, we'll treat your vehicle with the utmost care. We take the time to perfect the smallest details of every repair, so there's no trace of any damage left behind. We can also match manufacturer auto paint or custom-formulate colors based on your preferences. When your vehicle rolls out of our shop, we promise it'll look worlds better than when it drove in!
For us, delivering comprehensive service is as easy as A-B-C.
We offer loaner cars to customers who need a vehicle while theirs is in the shop.

We provide free estimates on all bodywork services, so you know the costs upfront.

Our capabilities include custom paint colors, as well as precision color matching.

We're a state-certified auto body shop, and are licensed and insured.

Our technicians are ASE certified, delivering top-quality results on every job.
Need a Car Body Shop in Beaverton, MI?
If your vehicle is damaged, don't waste a moment in calling us to schedule bodywork. We also do insurance work! Contact us today to deliver the repairs your car needs to stay roadworthy.
We are a collision and dent removal shop for drivers in the following cities and surrounding areas:
Billings, MI
Beaverton, MI
Clare, MI
Coleman, MI
Edenville, MI
Farwell, MI
Gladwin, MI
Gladwin County, MI
Harrison, MI
Midland, MI
Midland County, MI
Pinconning, MI
Sanford, MI
Standish, MI
Sterling, MI
White Star, MI